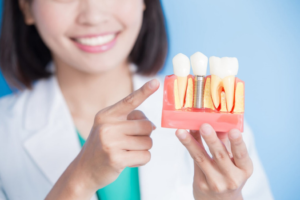 If you've recently received dental implants, you probably know that they're considered the gold standard when it comes to replacing missing teeth. With proper care, they can even last for decades and provide you with a beautiful and fully functional set of pearly whites. But as great as they are, there are still certain things you shouldn't do once you have implants if you want them to last! Here are four bad habits that your dentist wants you to avoid if you've received implants.
#1. Smoking & Using Tobacco Products
Needless to say, smoking is bad for your oral and general health, but smokers are actually at an incredibly high risk of having problems with their implants. In fact, research shows that smokers are three times more likely to experience implant failure than non-smokers! This is because smoking can inhibit your body's healing process and prevent your implant sites from recovering. Smoking and tobacco products also increase the risk of problems such as gum disease, and in more serious cases, oral cancer.
#2. Biting Hard Objects
Even though dental implants are much harder than your natural teeth, they aren't indestructible, and biting into hard objects can prove detrimental to their well-being. You should avoid using your teeth as tools to open bottles and packaging, hold items when your hands are full, or bite your fingernails. These habits can damage your dental implants and any remaining natural teeth, and even harm your jawbone or temporomandibular joints.
#3. Consuming Too Much Sugar
Sugary and starchy foods can easily cause tooth decay and gum disease that ultimately ends in tooth loss! This can also lead to jawbone damage and damage to the connective tissues that hold your natural teeth andimplants in place. Of course, consuming too much sugar can also prove troublesome for your oral health in general.
#4. Lack of Oral Hygiene
Perhaps the best thing you can do for your implants is practice excellent oral hygiene; failing to brush and floss daily will keep your mouth from staying sanitary, which will threaten your implants. It's also crucial that you visit your dentist twice a year for routine care; this will allow them to inspect your implants for underlying issues, as well as assist you in maintaining them.
About the Author
Dr. Manpreet Dhaliwal received his dental doctorate from the University of Detroit Mercy School of Dentistry and has spent several years continuing his education in a wide range of fields, including dental implant placement. His practice is thrilled to offer dental implants as well as a wide range of other restorative services. If you have any questions about the blog or you'd like to arrange a visit, feel free to contact his practice online or by phone for further assistance: (206) 429-4652.