Dental Implants – Kent, WA
The Gold Standard of Tooth Replacement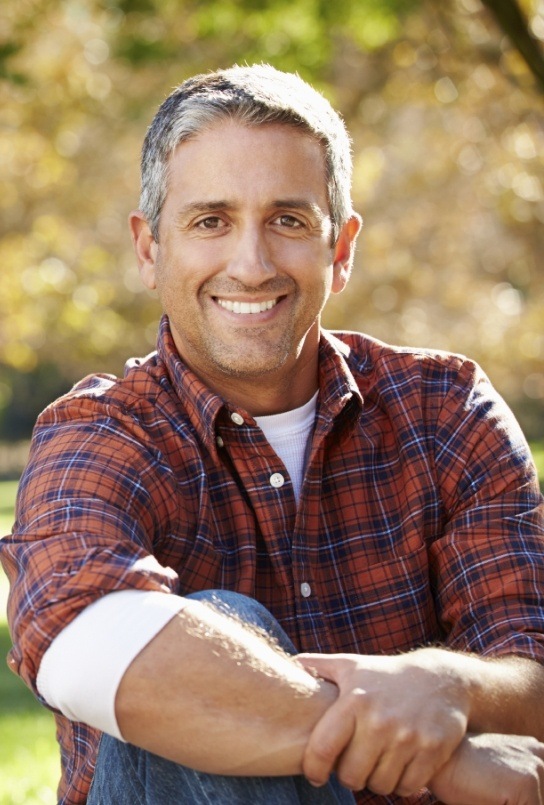 For most patients missing one or more teeth, dental implants are considered the ideal solution due to their numerous, revitalizing benefits, including stability, high cosmetic quality, and valuable oral health benefits. No additional teeth need to be altered to make room for the new restorations (like with bridges), and the nature of the implant is so seamless and lifelike that many patients forget after a while that they ever lost their natural tooth to begin with. It's for these reasons and many more why dentists and patients alike consider dental implants the gold standard of tooth replacement. If you're interested in discovering if this unique tooth replacement service is right for you, we invite you to keep reading to learn more or call us to schedule a consultation.
Why Choose Complete Dental Care for Dental Implants?
Team of Highly Trained & Experienced Dentists
Replace Any Number of Missing Teeth for Life
Free CT Scan for All Dental Implant Procedures
What is a Dental Implant?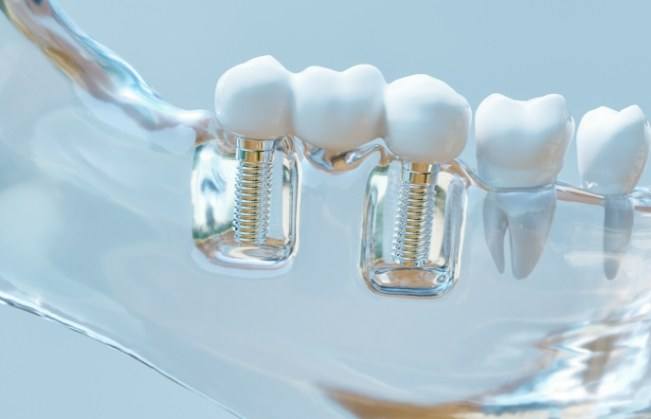 Dental implants are small, screw-shaped titanium screws. They are designed to be placed underneath the gumline directly into the jawbone. Since titanium is biocompatible, the implant will integrate into the bone tissue to essentially replace the roots of the missing tooth. One or more dental implants can be used to support a custom-made crown, bridge, or denture above the gumline, depending on how many teeth you're missing. The end result is a smile that looks, feels, and functions just like natural.
The Dental Implant Process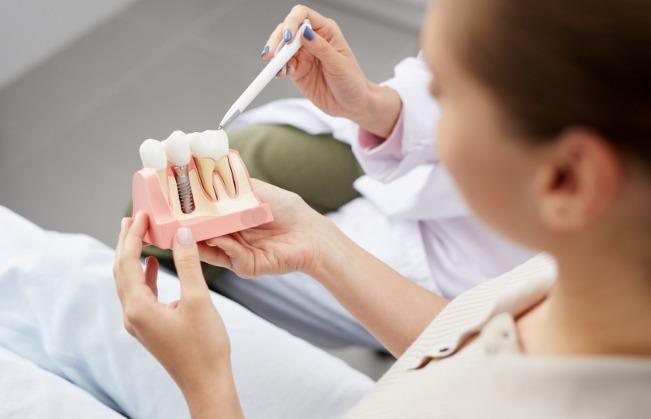 There are four general steps for the dental implant process. First, you'll need to visit us for a consultation to ensure that dental implants are a good choice for you. Then, you will undergo a minor surgical procedure in which the implant itself is placed precisely within the jawbone. Next, after an appropriate amount of time has passed for the area to heal, an abutment (the base for your new tooth) is placed, followed by the restoration itself sometime later.
Benefits of Dental Implants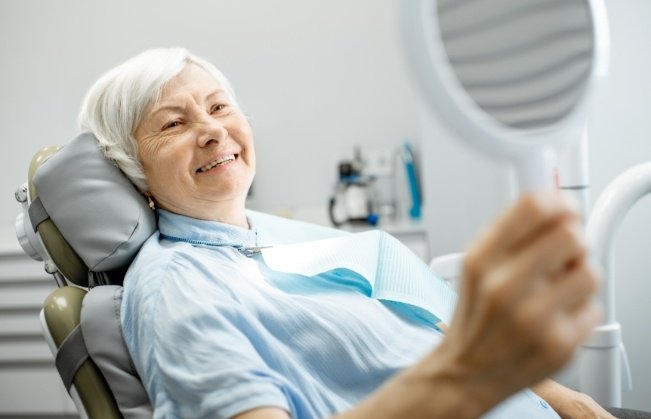 Dental implants offer several exceptional benefits to patients, including benefits for health, confidence, and quality of life. Some of the most notable include:
Improved appearance
Increased confidence
Greater stability and durability
Longer-lasting restoration (decades or a lifetime)
Little to no food restrictions
Easy to maintain
No chance of developing tooth decay
Improved functionality
Who Dental Implants Can Help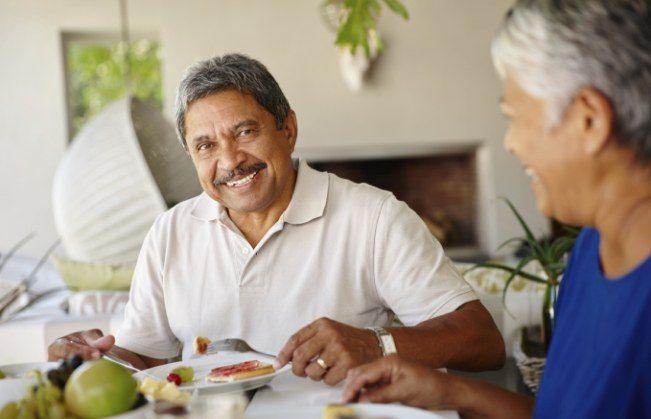 Depending on your unique needs and preferences, our team can design a dental implant treatment plan to replace any number of teeth. Our dental implant options include:
Missing Single Tooth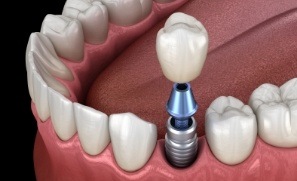 A single implant designed to replace one missing tooth can complete your smile in a way that's both conservative and completely satisfying in regard to look and feel. Dental implants are an exceptional replacement option because they help rejuvenate the health of your jawbone, which can deteriorate over time from tooth loss.
Missing Multiple Teeth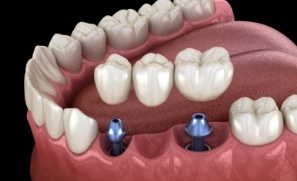 An implant bridge makes it possible to replace more than one consecutive missing tooth in a row. Using two dental implants, which will be surgically placed into the jawbone, the restoration will be comprised of three or more dental crowns fused together. After the average healing time of 3-6 months, you will return to our office to have your abutments and custom restoration put into place.
Missing All Teeth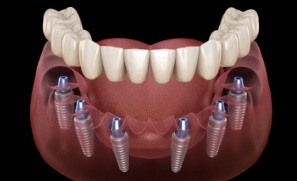 If you are missing all your teeth, there's no need to worry that traditional dentures will be your only solution to a restored smile. Now, with implant dentures, you can enjoy the stability, functionality, and longevity offered with dental implants. We will place between four and six implants along your arch before securing your customized denture in place. There will be no need for messy denture adhesives with this new and improved restoration.
All-On-4 Dental Implants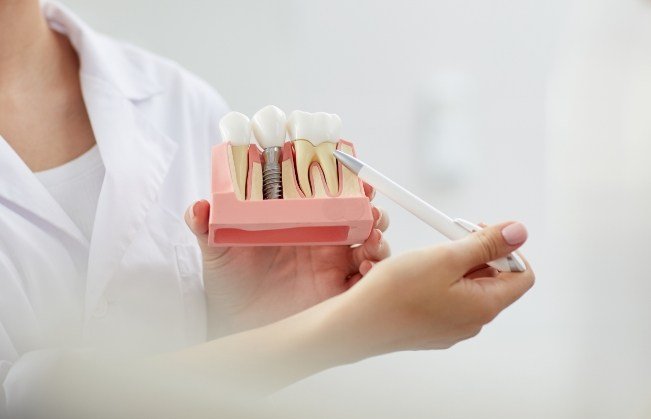 Severe tooth loss can be a struggle, especially if you wear a denture and are generally unsatisfied with the fit and feel of it. Thankfully, we can now combine the structure of a denture with the sturdiness and durability of implants through the All-On-4 system. By utilizing four implants that are strategically placed at an angle along the arch of your gums, we can create a foundation for a full, personalized restoration that is fixed, resulting in natural and comfortable feel.
Learn More About All-On-4 Dental Implants
Mini Dental Implants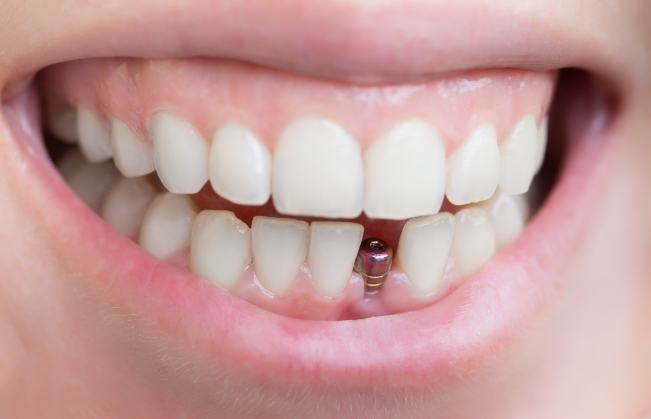 Of course, sometimes our team discovers that a specific patient may not be a viable candidate for traditional implants, or that the spaces in their mouth are too narrow to adequately support them. When faced with these cases, we instead turn to mini implants. As the name implies, mini implants are about half the size of a regular implant, but they still provide the same valuable health and cosmetic benefits that patients can enjoy with traditional implants. In addition, they're more versatile, less expensive, and they often eliminate the need for a recovery period, making them a faster tooth replacement overall.
Understanding the Cost of Dental Implants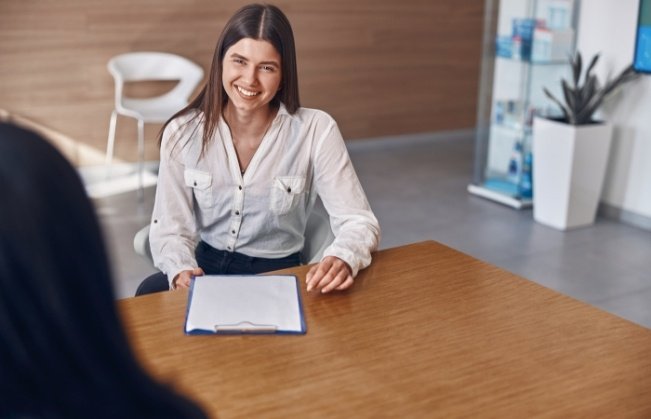 Compared to other forms of tooth replacement, dental implants are quite costly; however, their endless benefits and ability to offer what no other restorative solution can are what makes them one of the most popular solutions available today! When preparing to start your journey with dental implant placement, we will take the time to discuss what factors are considered when estimating the cost of your treatment.
Every patient is different, so depending on the following, your cost can vary based on these details:
Initial consultation
Any pre-dental implant work you might need (i.e. periodontal therapy, bone graft)
Anesthesia/Sedation
The number of dental implants you will need
The location of the implants
Materials used
The type of restoration you will need (i.e. dental crown, implant bridge, or implant denture)