Veneers – Kent, WA
Quickly Create a Flawless New Smile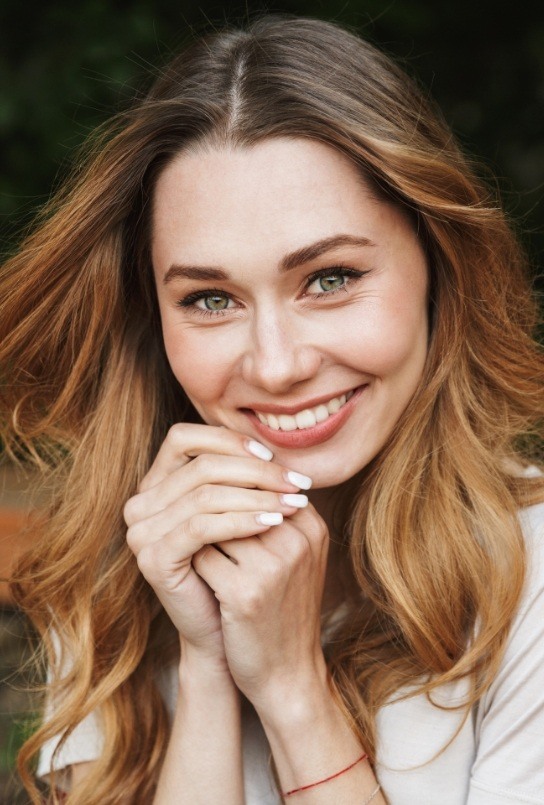 Let's face it, not everyone is born with a naturally attractive smile. Genetics, poor lifestyle habits, and trauma to your mouth can leave you feeling insecure about the appearance of your teeth. While you would like to improve how they look, you do not want to undergo an invasive or lengthy procedure. What if you could get the results you want with a simple solution? Now you can with your cosmetic dentist. With veneers from our Kent, WA cosmetic dentist, you will have the smile of your dreams in just two appointments.
How Can Porcelain Veneers Help Me?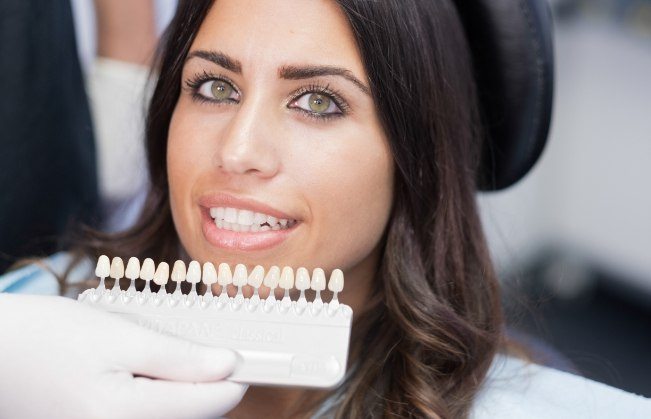 Porcelain veneers are thin shells that are bonded to the front surfaces of your teeth. This allows them to be effective for hiding several cosmetic imperfections, like dark tooth discoloration that cannot be resolved with traditional whitening treatments.
Often, they are used to correct chips, cracks, and shorter than average teeth. They will instantly improve their size, shape, and proportion. In some cases, you can even use them as an alternative to orthodontics to close gaps or make your teeth appear straighter. You can cover minor alignment concerns without having to spend months wearing braces.
You will achieve natural-looking results because porcelain closely mimics the appearance of your enamel. Not to mention, it is stain-resistant, so you can rest assured that your new smile will stay bright.
What Can I Expect During the Treatment?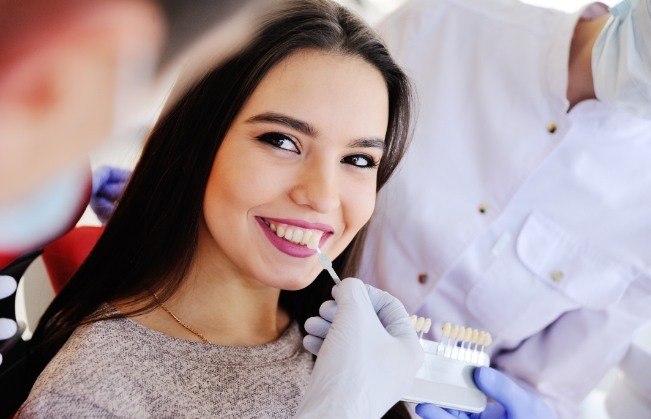 When compared to veneers of the past, those made from porcelain allow the procedure to be minimally invasive. They are thinner, so less of your tooth's structure is removed during the bonding process.
After an initial consultation you will be scheduled for the first phase of your treatment. Your teeth will be cleaned, and their surfaces will be lightly etched. This is necessary to ensure that they will sit flush. Then, we take impressions, which are needed to create your veneers to meet your exact specifications in a dental lab.
It will take about two weeks for them to be ready. In the meantime, we will attach temporary ones. After your final veneers have been sent back to our dental office, you will return for your second appointment to have them bonded in place.
Invest in Your Confidence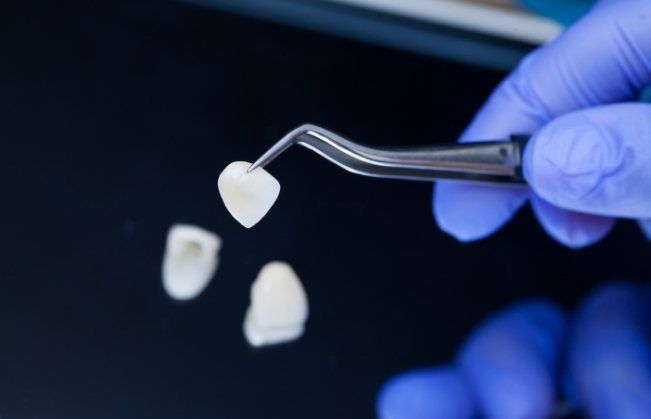 If you do not love how your teeth look, it is time to see if porcelain veneers in Kent, WA are right for you. Contact our dental office today to schedule your consultation for a beautiful smile.
Veneers Frequently Asked Questions
Everyone can have a picture-perfect smile with veneers in Kent; however, they are a big commitment. It's normal to have a few concerns before you are ready to move forward. Your cosmetic dentist, Dr. Dhaliwal will explain everything during your veneers consultation. Here are the answers to some frequently asked questions to ease any apprehensions until your appointment.
Are Veneers Permanent?
Veneers aren't permanent because they need to be replaced about every 10 years; however, they aren't reversible either. A small amount of enamel is removed during the preparation process. Although this doesn't harm the health of your teeth, your enamel won't grow back. Your teeth will always require the protection of restorations, whether veneers or crowns.
How Many Veneers Will I Need?
Your cosmetic dentist in Kent can bond a veneer to a single tooth to improve its color, size, and shape. However, the overall goal of the procedure is to enhance the smile as a whole. Every mouth is unique, so there's not a cookie-cutter treatment plan. After examining your mouth, Dr. Dhaliwal will explain how many you'll need to reach your goals. Generally, they are recommended for the teeth most visible when smiling. Some patients may need as few as 4 to 6, while others may require up to 8 or 10.
Do Veneers Feel Like Real Teeth?
Early veneers had a bad reputation for feeling bulky, but that's not an issue any more thanks to porcelain. The durable material allows less of your enamel to be shaved off during the bonding process to ensure the veneers sit flush. You won't feel any uncomfortable ridges or ledges when running your tongue over your teeth. While they may feel a little foreign initially, after just a few days, you may even forget they are there.
Can I Use My Dental Insurance to Pay for Veneers?
Veneers are considered elective in most cases, so it's rare for the procedure to be covered under dental insurance plans, but there are some exceptions. If your dentist determines they are necessary for your oral health, you may be able to use your coverage to offset the cost. This can be the case when needing replacements. Not to mention, your benefits may be used for certain steps in your treatment plan, like fillings or gum disease therapy. If applicable, we will work on your behalf with your dental insurance to maximize your annual allowance.
Can You Whiten Veneers?
Porcelain is stain-resistant, which means you don't have to worry about your veneers changing color over time, but your underlying teeth can still discolor. If you notice your pearly whites aren't as bright as they used to be, whitening products won't help. Even professional treatments won't have any effect on the restorations. Your cosmetic dentist will recommend avoiding whitening products because they can weaken the bonding material holding your veneers to your teeth. If you are concerned about color discrepancies, your dentist may suggest a whitening treatment before placing your veneers.