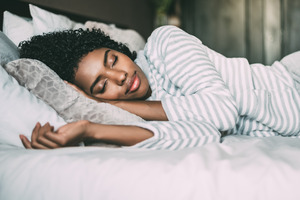 After your wisdom teeth are removed, you might experience some pain, bruising, and swelling in your jaw. These symptoms are perfectly normal, but they can make it difficult to sleep during recovery. Fortunately, there are several steps you can take to keep your discomfort under control so that you can get a good night's rest. Below are 5 tips for sleeping comfortably after wisdom tooth extraction.
1. Keep Your Head Elevated
You need to keep your head elevated above your heart for at least the first 24 hours following a wisdom tooth extraction, including while sleeping. This helps drain fluids away from the extraction site, which means you won't experience as much pain and swelling; it can also reduce your risk of developing a dry socket. Sleeping on your side and using multiple pillows can help ensure that your head stays properly elevated throughout the night.
2. Take Prescribed and Over-the-Counter Pain Relievers
Your dentist may prescribe some pain medication after your wisdom teeth are removed. Make sure that you follow any directions about taking said medication to the letter. If you haven't been prescribed anything, you can pick up some over-the-counter pain relievers such as ibuprofen (although you should first confirm with your dentist that it's okay to do so). Using medication to keep your discomfort under control can make it easier to fall asleep.
3. Apply Ice to the Area
The swelling that occurs after a wisdom tooth extraction is a result of fluids and blood cells rushing to the site to heal any tissues that have been damaged. If swelling is getting in the way of your sleep, you can reduce it by applying an ice pack to the area. Remember to only use an ice pack for 15 minutes at a time and to always wrap it in a towel so that it doesn't come into direct contact with your face.
4. Follow Any Postoperative Instructions You're Given
To minimize the chances of complications during recovery, your dentist will give you a number of instructions once wisdom tooth surgery is complete. This generally includes sticking to a soft food diet and regularly rinsing with warm salt water. By following these directions, you can keep the healing process on track and avoid issues that can interfere with your ability to sleep properly.
5. Call Your Dentist If Your Pain Becomes Severe
If the pain in your mouth is so severe that it can't be controlled with medication, you should call your dentist immediately. They can examine your mouth to determine the root of the problem and figure out what steps need to be taken to protect your smile. The sooner your oral health is back on track, the easier it will be to get quality sleep.
About the Practice
At Complete Dental Care in Kent, your entire family can enjoy top-tier dentistry thanks to the multiple, highly experienced dentists that we have on our team. We care about building trusting relationships with our patients and making sure their appointments are as stress-free as possible. Unlike some other practices, we can surgically extract wisdom teeth in-house. If you'd like to schedule a consultation at Complete Dental Care, visit our website or call (253) 854-2714.