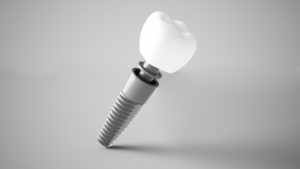 You have more options than ever before to replace missing teeth; however, only one solution recreates both the root and the crown. A dental implant is unlike any other treatment because it mimics the natural structure of a tooth. Most people with good oral and general health are candidates for the procedure. A dental implant is the most reliable method to treat tooth loss, with over a 95% success rate. Here are 6 reasons why a dental implant is the most successful solution to treat tooth loss.
1. A Healthy Jawbone
An implant post is surgically placed into your jaw to replicate the root. Your bone must fuse to the implant through a process called osseointegration. You will need to have the sufficient bone density to support the post. If you have lost density in your jaw, your implant dentist may recommend bone grafting to ensure the success of your new smile.
2. Advanced Technology
From start to finish, your dentist will use advanced technology, like a CT scan. The scan is used for diagnostic purposes and treatment planning. It can be used with computer-guided technology to pinpoint the precise location for your implant post. This takes the guesswork out of the process to minimize the risk of any complications.
3. Titanium Implant Posts
Titanium revolutionized the success of dental implants. The material is biocompatible and prevents allergic reactions. Bone fuses to it naturally to provide unmatched stability for your restoration. Although titanium is lightweight, it's durable to withstand the pressure of chewing.
4. Good Oral Hygiene
The biggest threat to the long-term success of a dental implant is a preventable infection called peri-implantitis. Good oral hygiene will keep the infection at bay. Brush, floss, and use a daily mouthwash to keep your mouth clean and healthy.
5. Healthy Lifestyle Habits
Certain habits can increase your risk of failure, like smoking or drinking a lot of alcohol. Your dentist will recommend keeping inedible objects out of your mouth, including your fingernails. Don't use your teeth in place of scissors or other tools to protect your investment.
6. Regular Dental Care
Besides caring for your new smile at home, visit your dentist every 6 months for a cleaning and checkup. They'll remove plaque buildup to keep your mouth healthy. Your dentist will check your teeth and implant at each appointment to ensure there aren't any concerns. If they find an issue, it will be detected early for prompt treatment, so a minor problem doesn't cause your new smile to fail.
Don't settle for anything less than the best when treating your tooth loss. Invest in a nearly identical replica of your real teeth using a solution that's proven to last for 30 years or longer.
About Dr. Dillon Chang
Dr. Chang earned his dental degree from Temple University and has regularly pursued continuing education in many advanced services, like dental implants and endodontics. He is a proud member of many professional organizations, including the American Dental Association and the American Academy of Endodontics. Request an appointment through our website or call (425) 413-8505.