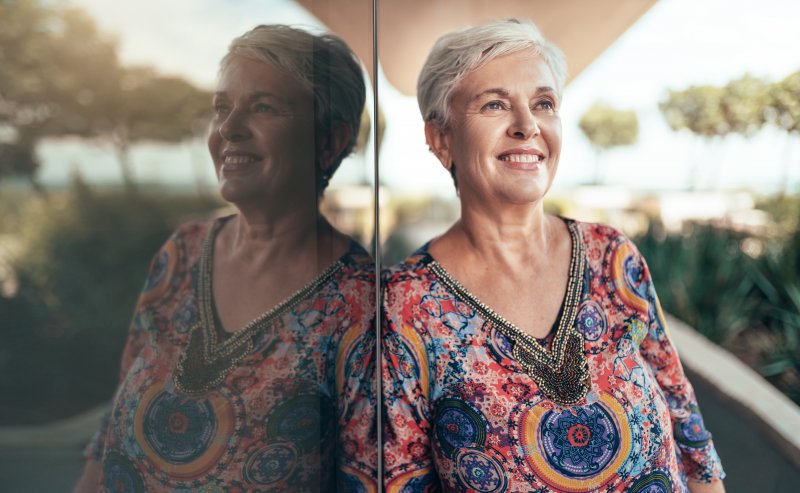 Have you worn dentures and decided to replace your missing teeth with something else? While these restorations are incredibly reliable and comfortable, they still have some kinks that you might find frustrating. If you want a more secure and longer-lasting solution for your smile, then you're probably considering dental implants. Read on to learn how you can benefit from these metal posts and tips on the transition from dentures!
The Benefits of Dental Implants
You may have several reasons why you'd like to switch from traditional dentures to dental implants. If you do make the transition, you can expect to enjoy various advantages, including:
Simple maintenance: Instead of having to use adhesive for help or soaking your prosthetic teeth overnight, you'll be able to take care of your new smile as though you had your natural pearly whites again. Simply brush, floss, and rinse with mouthwash frequently, and you'll keep them in pristine condition.
Stability: Ill-fitted dentures often lack stability and can make it difficult to eat comfortably or speak clearly, as they might shift out of place. Dental implants, on the other hand, are directly anchored to the jawbone, so they'll look and function like permanent teeth.
Preserves bone tissue: Dental implants are the only tooth replacement option that can preserve or revert bone loss in the jawbone. They'll serve as your permanent roots, stimulating the jaw from chewing and promoting stronger bone tissue.
No dietary restrictions: While you'll need to be careful with foods that are too hard or sticky, you'll be able to eat most of your favorite meals once your implants finish healing. Since you'll regain 80% or more of your biting power, you won't need to expect any dietary restrictions.
Long-lasting solution: Dentures will need to be replaced after 7-10 years, whereas dental implants can last anywhere from several decades to a lifetime!
3 Tips for a Smooth Transition
Although your transition process from dentures to dental implants won't be very difficult, here are some tips that can help make it a smooth experience:
Stick to soft foods: While you wait for your implants to undergo osseointegration, you should maintain a soft-food diet to prevent disrupting your healing process.
Expect time for recovery: Your mouth may take three to six months to completely heal from your dental implant surgery. Be sure to rest plenty and maintain a clean smile for a speedy recovery.
Change your oral hygiene routine: Without dentures, you won't need soaking solutions or adhesives anymore. You'll simply need to go back to a regular dental hygiene routine as if you had your natural teeth again. You can also ask about special toothbrushes designed for those with dental implants.
Adjusting to your dental implants after dentures can go much smoother by keeping these few tips in mind. You'll be able to use and show off your brand-new smile in no time!
About the Author
Dr. Manpreet Dhaliwal received his dental degree from the University of Detroit Mercy. He also regularly pursues continuing education to advance his expertise and techniques. He provides a wide range of comprehensive services, including dental implants. If you'd like to schedule an appointment, visit his website or call 253-854-2714.