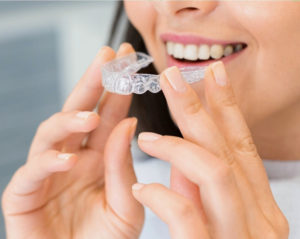 Straight teeth are associated with a healthy, beautiful smile. However, people of all ages have alignment issues, like overcrowding or a poor bite. Whether you missed your chance for braces as a child or your teeth have moved over the years, you're never too old to invest in a straight smile. 1 in 5 orthodontics patients are adults, thanks to less noticeable treatments, like Invisalign. Clear aligners are virtually undetectable with over a 96% satisfaction rate. If you're ready to achieve the straight, attractive smile you desire, here's how to find an Invisalign provider in 5 easy steps.
1. Ask for Recommendations
A quick Google search will provide you with a long list of dental professionals; however, not all will be right for you. Ask friends and family for recommendations to narrow down your search. With a shorter list of potential dentists, it will be easier to find the perfect Invisalign provider for you.
2. Look at Their Qualifications and Experience
Although many dentists offer Invisalign, not all have completed advanced training in orthodontics. Look for a dentist or orthodontist that has the experience and qualifications to move your teeth into their best positions safely. You'll have peace of mind knowing your smile is in reputable hands.
3. Check Location and Hours
Look for a dental practice that's close to your home or workplace because you'll need to visit your dentist regularly. Although you don't need appointments for adjustments, you'll still need to see your dentist every few weeks to monitor the progress of your treatment. Choose a convenient location with flexible office hours to accommodate your schedule to avoid unnecessary delays.
4. Review Payment Options
Often, you can use your dental insurance to offset the cost of Invisalign, but it won't pay the entire amount. Besides using your dental insurance, choose a dentist that accepts various payment methods to keep your treatment affordable, like third-party financing. Based on your credit approval, you can pay for any out-of-pocket costs using monthly installments with little or no interest.
5. Read Reviews and Testimonials
Finally, take a few minutes to read online reviews. You'll learn more about the experiences of current patients, so you'll know exactly what to expect, such as the dentist's chairside manners and overall results.
You can join more than 5 million people who have already invested in Invisalign with the right dentist by your side. Clear aligners are a big commitment, so take the time to explore all your options to have 100% confidence while on your journey to a straight smile.
About Dr. Manpreet Dhaliwal
Dr. Manpreet earned his dental degree from the University of Detroit Mercy, where he remained on the Dean's List for all 4 years because of his academic excellence. He regularly pursues higher education to provide advanced services, like Invisalign. Dr. Manpreet strives to build long-term relationships with each patient while helping them achieve their best smiles. If you are interested in improving your smile, contact our office today to request a consultation.