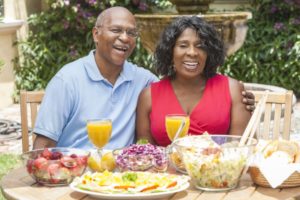 If you're preparing to replace a full row of missing teeth with All-on-4, you might be under the impression that you can enjoy enhanced chewing power later that same day. After all, your dentist will attach a denture immediately after your procedure. Unfortunately, that's not exactly the case. Following All-on-4 surgery, your jawbone and gums will need time to recover, and you'll probably experience discomfort in the coming days or weeks. To ensure that your All-on-4 recovery is successful, follow these guidelines on what to eat and drink.
Common Side Effects After Dental Implant Surgery
After the dental implants have been surgically placed into your jaw, you can expect a mild to moderate level of soreness. This can be easily managed with over-the-counter or prescribed pain medication. For several days, you might experience swelling as well as intermittent bleeding near the surgical sites. Additionally, it's not uncommon to have a sore throat during this time. Therefore, when it comes to your diet, you'll need to take it easy for a while.
Recommended Foods & Beverages During All-on-4 Recovery
The types of foods and beverages you consume after dental implant surgery can impact the healing process. Eating or drinking the wrong things could increase the risk of complications. Your dentist will provide you with detailed instructions, but in the meantime, here are some basic tips on what to eat and drink at various points after All-on-4 surgery.
One to Two Weeks Post-Op (Liquid Diet)
At first, you should solely consume cool or lukewarm liquids; hot or spicy items can irritate the surgical site. You'll also want to drink plenty of water to stay hydrated and encourage healing. Just don't use a straw since it could lead to dry socket. Some liquids you can consume during this period include:
Milk
Yogurt drinks
Pudding
Coconut water
Smoothies
Custard
Broth
Cream-based soup
Two Weeks to Three Months Post-Op (Soft Food Diet)
As your discomfort subsides, you can gradually add soft foods to your diet. However, avoid anything crunchy, hard, or chewy, as these items could exert too much pressure on your implants and prevent them from fusing with your jaw. Instead, choose foods that don't require a great deal of chewing, such as:
Mashed potatoes
Cooked pasta
Soft breads
Oatmeal
Hummus
Over Three Months Post-Op (Normal Diet)
Once the implant posts have integrated with your jawbone, you'll regain up to 70% of the biting and chewing power you had with your natural teeth. At that point, you can resume a regular diet filled with a variety of delicious, nutritious foods.
As the date of your All-on-4 procedure approaches, make sure to stock up on the appropriate foods and beverages beforehand. Feel free to ask your dentist any questions you may have about what to expect during recovery. By following their directions, you'll have a complete, confident smile again before you know it!
About the Practice
With four talented dentists at the helm, our team at Kent Dental Clinic is ready to meet the dental needs of families in Kent, WA and the surrounding areas. Our dedication to the latest technology and world-class customer service helps us provide top-notch services, including in-house dental implant placement with All-on-4. To learn more about what to expect after getting All-on-4, contact our dental office at 253-854-2714.