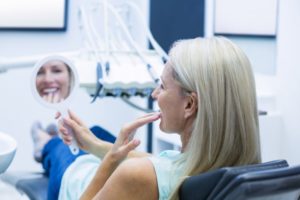 Have you been intrigued by the possibilities with some of the cosmetic dental treatments you've seen, or do you just know you want to make strides in your smile? But you're also thinking that maybe you are just too old to pursue the improvement?
Well, forget about that second notion, because age is nothing but a number! And the advancements in modern cosmetic dentistry can make a massive difference in your smile and offer you several pathways to get there.
Keep reading to learn why the time is now for your grin with the help of your cosmetic dentist in Kent.
Is My Age a Factor When Considering Cosmetic Dentistry?
You probably already know that people today are living longer than ever before. This is due to more advanced medical care and widespread knowledge on how to stay healthy. In fact, current seniors have the most active and social lifestyles in history. It only makes sense that more older adults want to invest in the appearance of their teeth. Older patients are also more likely to have developed structural and cosmetic dental issues over time. The good news is that there are all sorts of aesthetic treatments that can benefit you.
What Are My Cosmetic Dentistry Treatment Options?
Your ideal cosmetic dentistry option awaits – it just depends on what you need.
Teeth Whitening: Stains and discoloration on your enamel can occur for a variety of reasons, including age, genetics, and even the use of certain medications. You received customized oral trays that you'll wear with high-grade whitening gel for a brief time each day to whiten your smile 4-8 shades.
Veneers: This is an excellent cosmetic choice for patients with several dental flaws that may need correcting, such as chips, cracks, stains, or even gaps. They consist of a very thin, beautiful piece of dental ceramic that is personalized for each patient and designed to fit over your existing teeth. The process takes 2-3 visits, and effort is made to ensure they feel natural and comfortable
Bonding: This option can be used to improve the aesthetic value of your smile by erasing small cracks, gaps, areas where a cavity has been removed, and even stains. A composite resin material is carefully and precisely sculpted over a molding gel that is then placed onto the affected tooth. An LED light is used to harden it, resulting in a smile that looks fresh and polished. This is a safe and affordable option.
All-Ceramic Crowns: They look and feel very natural, plus they avoid that unpleasant black line that can sometimes appear at the gumline when relying on more traditional materials. Ceramic is biocompatible, and it may help rejuvenate your soft tissue so it grows back alongside your new restoration. It even reflects light in the same way as natural enamel.
Full-Zirconia Crowns: These are relatively new, but the material has been a strong presence in the medical world for years. It can be used to craft restorations that are durable, beautiful, and long-lasting. People with allergies or extreme sensitivity to materials commonly used in dental crowns are viable candidates for zirconia crowns, and very little preparation is required to accommodate them within the mouth.
Whether you are 37 or 73, you are the perfect age for cosmetic dental treatment. It just depends on your smile goals as to the path you take. A consultation with your cosmetic dentist in Kent will get you started!
About the Practice
At Kent Dental Clinic, we create exceptional smiles one at a time. We offer a vast array of services from children's dentistry to oral surgery, and we are always ready if you need an emergency dentist. We have special offers that you can find on our website or ask our staff about. If you are interested in cosmetic dentistry, we can provide every option that is referenced in this blog post. To get started, you can schedule a consultation with our cosmetic dentist on our website or call (253) 854-2714.