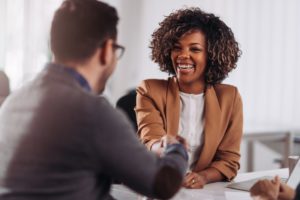 Whether you're in the market for a brand-new job, or just wanting to move up the ladder at your current organization, you likely know that there are certain things you have to do to get where you want to be. You might immediately think of being determined, showing up on time, going the extra step to help a client or a peer, but have you ever considered how getting cosmetic dentistry could also help to serve as a step toward advancing your career? Keep reading to learn more.
Invisalign and the Benefits it Brings to Your Profession
Studies have shown that people who are happy with their smiles have more contentment in relationships, enjoy an overall better quality of life, and tend to advance more quickly in their professions. Maybe there are flaws about your smile that you don't like, such as stains, chips, gaps, or even misalignment. From Invisalign to teeth whitening, to porcelain veneers, there are tons of ways that your cosmetic dentist can help to enhance your smile and set you on the path to attaining the profession you've always wanted. Here are a few of the career benefits that come with a transformed smile:
Higher Level of Self-Esteem
If you have a smile that you love, it's only natural that you will feel better about your overall appearance. If you are happy with your teeth and your looks in general, you will be more likely to feel motivated to succeed in the workforce.
Greater Confidence
What can confidence do for your career? The more confident you are in yourself, the more you will put yourself out there in your workplace. Having a beautiful smile that you're proud of can give you the boost of courage you need to finally ask for that promotion or apply for your dream job.
More Trust from Fellow Employees
People who are self-confident often find themselves in roles of leadership. People are attracted to self-assurance, and they will naturally gravitate toward you because they will trust you as an advisor. If you're wanting to move into a leadership position at your organization, do what it takes to have a smile that will give you the extra self-esteem you need. It's also important to note that confidence tends to stand out to other leaders in the workplace who have the power to promote you.
If you're ready to take the next step in your career, but you struggle with the confidence and courage to do it, talk to your dentist about how they can help you by transforming your smile with cosmetic dentistry.
About the Practice
Dr. Donald Hainer and Dr. Manpreet Dhaliwal lead the team of experts at Complete Dental Care in Kent. They understand the importance of living life with a smile you love and how crucial it is when it comes to your career success. They are committed to ensuring that their patients receive only the highest quality of care, and they are passionate about transforming smiles. With years of education and training under their belts, they are the perfect practice for your next cosmetic dental procedure. You can learn more online or call (253) 854-2714.