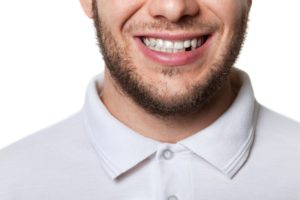 You never expect to lose a permanent tooth, but it happens more often than you might believe. Besides tooth decay or infection, you can also lose one from trauma to your face or mouth. Although you never expect it to happen to you, 1 in 6 Americans faces a dental emergency every year, which results in 5 million knocked out teeth annually. If your tooth fell out, you can help save your smile, but you need to act quickly. With the right care at home and from your dentist, it may not be lost for good.

What Do I Do If My Tooth Fell Out?
Often, it is believed if a tooth is knocked out, there is nothing you can do to save it. This isn't necessarily true. In fact, if you act quickly at home and get to your dental office within the next 30 minutes, your dentist may be able to save it. To ensure your tooth survives, here are some tips you need to know:
Hold it by the crown. After you locate the tooth, do not pick it up by the root. Instead, hold it by the crown to avoid damaging it.
Rinse it with cool water. Do not use any soaps or cleaners. You also don't want to scrub it. After you've rinsed it off, do not dry it.
Insert it into the socket. Gently push your tooth back into the socket with your fingers. Bite on a piece of gauze to prevent it from moving.
Keep it moist. If you can't insert it back into the socket, you need to keep the tooth moist. Place it in a cup of milk or water to preserve it.
Call your dentist. You must see your dentist within 30 minutes of the injury if there's any chance of saving your tooth.
What Happens If My Tooth Can't Be Saved?
Every tooth in your mouth is invaluable to your oral health and functions. If your dentist cannot save it, you'll need to have it replaced. Now, there are many options to replicate your lost tooth. As an alternative to a traditional fixed bridge, a dental implant is also an effective treatment, which replaces the entire tooth structure, including the root. Your dentist will evaluate your oral health and discuss your preferences to create a customized treatment plan to restore your smile.
Call Your Dentist Right Away
If you've had a tooth knocked out, don't wait until it's too late. Contact your emergency dentist right away.
About Kent Dental Clinic
Kent Dental Clinic is committed to providing our patients with the high-quality care they need for lasting oral health. Besides general dentistry, we also offer emergency services because we believe in always being there for our patients, even during difficult times. If you've recently lost a tooth, don't wait. Contact our office now for a same-day appointment.