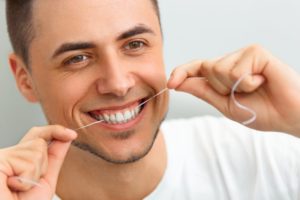 You've heard your dentist talk about the important benefits of flossing. Not only does it remove harmful bacteria that is living between your teeth, but it also removes any leftover food particles that are clinging to your pearly whites. Unfortunately, most Americans are not flossing as often as they should. This can lead to tooth decay, cavities, and gum disease. If you've been wanting to improve your oral health, or if you are looking for another way to floss, you'll be happy to know there are benefits to both traditional and water flossing. Read on to find out which method might be better for you.
What is Traditional Flossing?
You're probably most familiar with this type of flossing. This is where you take a piece of dental floss and gently move it back and forth between your teeth to remove bacteria and food particles. The desired length of floss is approximately 18 inches in length. In order to floss the correct way, you should wrap most of the floss around each of your middle fingers. Using your index fingers and thumbs, you slide it up and down between each tooth, curving it around the base.
It's important never to force the floss up or down between your teeth, as you can easily damage your gums.
What is Water Flossing?
Using a hand-held device, water flossing allows you to remove the same materials from between your teeth, only water pressure is being used and not dental floss. A steady stream of water pushes the particles and bacteria out. Individuals with braces or other dental work or those who have difficulty holding dental floss may find that water flossing is more suitable.
What Are the Benefits of Both?
When trying to decide which method is right for you, know that both traditional and water flossing are effective ways to avoid tooth decay and gum disease. But here are a few added benefits of both styles:
Traditional Flossing containers are small and compact, making it easier to travel with and carry with you should you need it while you are away from home.
Water Flossing makes it easier for individuals with braces to maneuver around the brackets and wires.
Water Flossing also reduces the likeliness for inflammation that traditional flossing can sometimes cause, especially if you are forcing the floss up and down between your teeth.
Traditional Flossing is inexpensive and can be bought at practically any drug store, grocery store, pharmacy or airport.
No matter which option you choose, know that you are taking the right step in preventing oral health problems like gum disease and tooth decay. By keeping your mouth healthy and clean, you are ensuring your teeth and gums stay in place for years to come.
About the Author
Dr. Manpreet Dhaliwal, DDS, completed part of his undergraduate studies at Green River Community College before graduating with a degree in biochemistry from the University of Washington. Following his undergraduate studies, he attended the University of Michigan, and in 2011, earned his Doctor of Dental Surgery from the University of Detroit Mercy. Offering patients personalized care, Dr. Dhaliwal and his team will take the time to learn about your unique dental needs and provide the highest quality dental treatment. To find out how we can help you, visit our website or call (253) 854-2714.