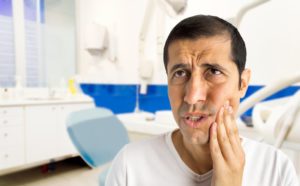 Whenever you chew, you feel dental pain. You should never ignore dental pain because it's really a sign that there are other issues that concern your smile. In fact, by the time you feel dental pain, your condition has advanced to the point where you need assistance from your local dentist. Thankfully, dental practices have effective, long lasting ways to restore a smile like dental crowns in Kent or even fillings—depending on your particular problem. Find out which one is best for you in this week's blog post.
Why Might Someone Need a Dental Restoration like a Crown or Filling?
The main reason that patients may need to eventually get a filling or may need a dental crown is because of tooth decay from plaque buildup and tartar collection on the teeth. Decayed teeth are treated in three main ways:
Extraction—the very last option your dentist in Kent will recommend.
Dental crowns—for a tooth that has large amounts of decay.
Fillings—the very first option your dentist will recommend when decay is first spotted.
Which treatment you need depends on how severely your tooth is affected. Teeth that are far beyond saving with any restorative procedure need to be pulled. Otherwise, your mouth will suffer from the infection.
Learn About Today's Dental Fillings
As mentioned above, a dental filling is the first line of defense when it comes to stopping a cavity or tooth decay. And with the advancements in dentistry, you don't have to worry about a metal filling standing out from the rest of your smile as the modern fillings your dentist will recommend are tooth-colored!
Your local dentist will numb your tooth, clean out the decay with special tools, and place a beautiful composite resin filling that will seamlessly blend with your natural smile.
What You Need to Know About Modern Dental Crowns
Dental crowns have also advanced with modern dentistry, also being able to blend with the rest of your smile. Dental crowns cover a lot more surface area on a tooth than a filling ever could. They essentially replace the outer enamel layer that has been damaged from decay. They also provide strength and protection against biting forces, providing newfound stability and structure for your tooth.
Meet with Your Dentist to Discover Which is Best for You
When you show up to your dentist's office with a toothache, your dentist will begin addressing the problem with a dental checkup and exam. This allows them to review your oral structure and determine the level of decay you're facing.
Next, you will discuss which kind of restoration is right for your tooth—either crowns or fillings. Your dentist will make the best recommendation to address your concerns while fitting within your budget and lifestyle.
---
About Our Office
Here at Complete Family Dentistry, we want you to feel great and look great. This means that even if you are pleased with the look of your smile and have pain, you should discuss the best way to restore it with our dental professionals. Call us today to schedule your next visit.