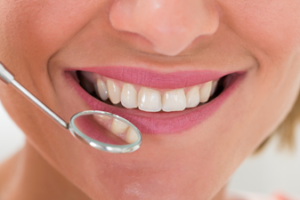 Your toothbrush and dental floss are vital to keeping your teeth clean to prevent oral health complications, like tooth decay and gum disease. However, they are only half of the care you need. Even with the best oral hygiene habits, there are still areas in your mouth that you cannot clean at home, which is why you need professional teeth cleaning every six months. While the semi-annual cleanings are recommended by the American Dental Association and your insurance company, there may come a time when you require more frequent visits.

How Often Do I Need a Cleaning?
It is recommended that you have your teeth professionally cleaned twice a year to remove trapped plaque and tarter buildup. This prevents oral health issues, like tooth decay and gum disease from developing. As a result, you help to keep your long-term dental costs reduced by preventing complications from developing in the first place.
Not only does the American Dental Association recommend that you see your dentist twice year for a cleaning, but your insurance company as well. Dental coverage is designed to stop issues from developing, which is why preventive appointments are covered in full or for a small co-payment.
However, while semi-annual cleanings are recommended, there may come a time when you need more frequent visits. If this occurs, your insurance may not cover the full portion of the treatment.
Do I Need to See the Dentist More Often?
If your oral health is generally in a good state, you may only need to see your dentist twice a year. However, if you have certain conditions, like gum disease, you will need more frequent cleanings as part of your periodontal therapy. Often, these appointments are needed every three to four months to help treat the infection.
In some cases, your risk factors for potential dental issues may cause you to need more frequent cleanings as well. Those with diabetes have a decreased ability to fight infections, making them more prone to gum disease. To help prevent it from developing, more frequent care will be needed.
Don't Skip Your Dental Cleaning
While it may be tempting to skip your next dental cleaning, it is best to remain proactive about your oral health. Do not wait until after a problem has developed. Instead, visit your dentist regularly for a cleaning and checkup to keep your smile healthy.
About Kent Dental Clinics
At Kent Dental Clinics, we believe that you deserve to benefit from personalized care to help you reach your oral health goals. We treat patients of all ages to provide the exact services you need to keep your teeth and gums healthy. In addition to cleanings and checkups, we offer complete services to rehabilitate your dental health. If you need a dentist who can care for your entire family, it is time to choose the trusted choice in the area. Contact Kent Dental Clinics today to schedule your appointment