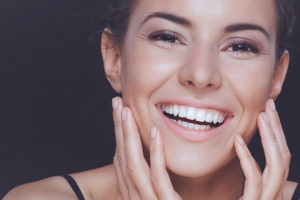 You are startled when you look at your smile in a mirror. How did your teeth get so dull and discolored? Would an over the counter whitening rinse remove those coffee stains? Unfortunately, while convenient to purchase, store-bought rinses, strips, and tubes of toothpaste just don't do an adequate job. Choose professional teeth whitening in Kent from Complete Dental Care. Safe and highly effective, this cosmetic dental treatment from Dr. Dhaliwal, Dr. Hainer or Dr. Kaur leaves teeth up to eight shades whiter, and you can use it in the privacy of your own home.
How Did Your Smile Get Stained?
Even healthy teeth darken over time because of several factors:
Consumption of deeply pigmented foods and beverages (blueberries, curry, coffee, and tea as examples)
Use of some pharmaceuticals (certain antibiotics and antihistamines)
Age (your enamel thins out from years of wear and tear)
Heredity
Cigarette smoking
Chewing tobacco
Root canal therapy
Oral injury
Additionally, individuals who do not brush, floss and get routine cleanings at Complete Dental Care as they should are more prone to discolorations as accumulated plaque and tartar hold onto stains.
Does Teeth Whitening Work?
Fortunately, professional whitening from your cosmetic dentist in Kent addresses most of these problems if your teeth are decay-free and do not have extensive restorations and if your gums healthy. However, some staining is too deep for even professional whitening methods. During a cosmetic dentistry consultation, your dentist will do a complete oral examination before recommending whitening or for deeper stains, composite resin bonding or porcelain veneers (dental laminates).
If you are wondering how whitening works, the answer is simple. At-home whitening from Complete Dental Care uses a powerful hydrogen peroxide gel applied via custom-made acrylic trays. As a whitening patient, you simply fill the snugly-fitting trays with the gel and apply them to your teeth, wearing them for the prescribed amount of time daily. In about a week or so, your teeth will brighten by four to eight shades of color. Also, because the trays are a perfect fit, the gel will not leak onto your sensitive gum tissue.
Couldn't You Use Over the Counter Products?
Yes, you could, but understand that they are simply not as effective and can, in some cases, make your teeth and gums sensitive to temperature extremes. Here are examples of the kinds of products available at drugstores, shopping malls and online:
Whitening toothpaste This toothpaste helps very minor staining when used on a regular basis. It's also helpful to keep professionally whitened teeth bright.
Whitening strips These often cause gum sensitivity as do over the counter trays. They're problematic because basically, they are one-size-fits-all. The bleaching ingredients inevitably end up on your soft oral tissues.
Whitening rinses These products have limited whitening effects simply because they don't stay in your mouth a long time. However, they do freshen breath and help reduce plaque.
In general, it's best to speak with your dentist and hygienist about whitening your teeth. They know the health of your smile best and can recommend how you can achieve your brightest, healthiest smile.
Learn More
A cosmetic dentistry consultation with Dr. Dhaliwal, Dr. Hainer or Dr. Kaur will give you the answers you need to make your best decision about whitening your teeth. Contact Complete Dental Care to arrange your personal consultation and find out more.