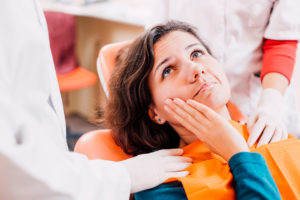 Dental emergencies can be a painful and upsetting experience, but knowing what to do when you are faced with one can make it a lot easier. Here at Kent Dental Clinic, we want you to be both prepared and assured that if you are experiencing a dental emergency in Kent, we are always available to help. We know that it can be difficult to wait for a regularly scheduled appointment, so that is why we offer weekend and extended hours to handle your needs whenever they should arise. If you find yourself experiencing an emergency, you can be confident that our team is only a phone call away.

What is a Dental Emergency?
If you are in severe pain, in danger of losing a tooth, have one that has been knocked out, or are experiencing ongoing tissue bleeding, then this is considered a dental emergency.
The following are examples of dental emergencies that need immediate treatment:
You are experiencing pain in a tooth that is severe and it cannot wait for normal office hours.
An injury has caused bleeding to the gum tissues and it will not stop.
An accident has caused a loose or knocked out tooth.
Your jaw has been injured and you are experiencing painful swelling.
How To Handle A Dental Emergency
If you have ever suffered a dental emergency, you know that time is of the essence. The most important to remember is to remain calm and call your dentist right away. Helpful instructions on how to handle the emergency can be given right away, which may make the difference in a more satisfying and healthier outcome. The following are some common emergencies and how to deal with them:
Lost a filling — Rinse out the cavity with warm water and protect it with a cotton ball or a filling product such as Dentemp. Seek treatment as soon as possible.
Lost a crown or cap — There may not be any immediate pain with this, but the most important thing you can do is protect your tooth from exposure to food that can cause irritation. A bit of dental wax or a temporary cap will help to shield the area and reduce sensitivity until you can see your dentist.
Severe Toothache — This can be one of the most painful emergencies you experience. Begin by rinsing out your mouth out with warm water. To relieve swelling place a cold compress against your cheek for 20 minutes and then remove it and let it warm up. Never apply pain medication directly against the gum, which can cause inflammation and potentially do more damage to the teeth.
Chipped or broken tooth — If you can, save the chipped or dislodged part of the tooth. Rinse the mouth out with warm water, as well as the fractured tooth. If there is bleeding, place some gauze or a cotton ball over affected area for 5-10 minutes. For swelling, use a cold compress on the outside of your mouth until the swelling goes down.
Knocked-out tooth — Your best chance to save the tooth is to get to your dentist within one hour. Rinse off the tooth, being careful not to touch the root, and place it in some milk or salt water and get to the dentist as soon as possible.
Don't Wait Until It Is Too Late
Dental emergencies can get worse very quickly so knowing what to do can make a big difference in the outcome of your situation. If you are experiencing a dental emergency in Kent, contact us right away so that we can provide the best information and care as soon as possible.