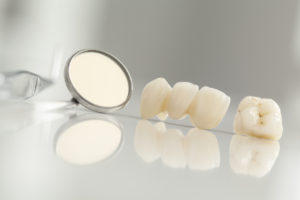 Dental damage is practically impossible to avoid in a full lifetime. Most patients will experience a small cavity or even a full missing tooth, not to mention multiple teeth. This expectation is realistic, not embarrassing. Instead of avoiding the proper care that you need when you have a dental mishap, visit Complete Dental Care for the help you deserve. Our dentist can help patients that have lost one or more teeth in a row with dental bridges in Kent. We provide the type of care that will have you walking out of our office feeling understood, supported, and most importantly confident in your smile again.
What is a dental bridge?
Dental bridges are a series of dental crowns, or dental prosthetics used to strengthen damaged teeth or replace several missing teeth. Multiple dental crowns are attached together to create the bridge. By being cemented to natural surrounding teeth, a dental bridge can restore the strength of your natural teeth and overall smile. Our restorations are created from hefty gold, metals, and alloys for a strong layer beneath tooth-colored dental porcelain.  The dental porcelain can match your natural teeth, camouflaging your restorative procedure among your original teeth.
How does your dentist apply dental bridges?
During your initial appointment, you will meet with a restorative dentist in Kent for an open-minded, judgement-free consultation. This will help us to understand your dental goals and develop the best plan for us to help you reach them. After you and your dentist have agreed that dental bridges are the best option for you, our team will create a detailed mold to send to the lab. Once we've received your restorations, we can simply place the bridge naturally. We want to make sure that it fits properly so that you can enjoy the full benefits of a complete smile.
How long do dental bridges last?
Dental bridges are built to last our patients at least a decade, possibly longer if you take care of them. The most important step you can take to ensure the longevity of your bridge is to practice good oral hygiene. That includes:
Keep your gums and teeth healthy by brushing and flossing twice a day.
Visit your dentist twice a year at the very least for checkups and professional cleanings.
Prevent dental damage by avoiding hard foods or foreign objects.
Getting dental restorations does increase your chances of tooth decay. Fitting a prosthetic over your natural teeth creates a new crevice for dangerous bacteria to build up under. If the supporting teeth holding your bridge in place fail, so will your dental bridge. Again, we can't stress enough the importance of visiting your dentist regularly. This is especially true if you have a prosthetic to catch signs of dental bridge failure early and develop the best solution.
Are you considering filling the gap in your smile? Complete Dental Care is excited to help restore confidence in the smiles of our Kent patients. Request an appointment and experience cutting-edge restorative dentistry today!