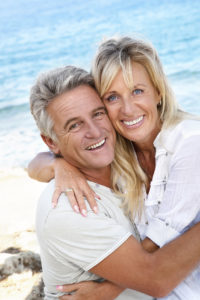 If you are missing one or more teeth and have been told that you are not a candidate for traditional dental implants, then consider mini dental implants. As the name implies, these are a smaller version of traditional implants, so they may be perfect for your mouth. Moreover, the surgical procedure to place these implants is less invasive and, therefore, recovery time is dramatically shortened. To learn more about mini dental implants in Kent, contact the team at Complete Dental Care. We'll be able to evaluate your circumstance and determine the best tooth replacement option for you.
Are You a Candidate for Mini Dental Implants?
Your dentist at Complete Dental Care will conduct a thorough examination of your teeth and gums and also gauge the density and quantity of your jawbone to determine if mini implants are right for you. We may use x-rays or a CT scan to see the bone structure and to help us place your implants where they will have optimal support from surrounding bone tissue.
The Differences between Traditional Implants and Mini Implants
First, mini implants are about half the width of traditional dental implants. Traditional implants have a diameter of about 3.75 mm, whereas mini implants range from 1.8 mm to 3 mm. Their size may make mini dental implants an ideal option if you need to replace smaller teeth or teeth that are positioned in a narrower spot in your mouth.
In addition, mini implants usually do not require bone grafting and they are less costly than their traditional counterparts.
The Mini Implant Procedure
Unlike traditional dental implants that necessitate a more invasive surgical procedure, mini dental implants can typically be placed and a tooth replacement attached all in one day. With the assistance of an x-ray or CT scan, you dentist will mark the proper location for the implant on your gum ridge. Then, a small hole is created in the tissue and your implants are inserted and tightened into place.
Once the implants are positioned, it's time to replace your missing teeth. In Kent, mini dental implants are often ideal for people who want to wear implant retained dentures. The underside of existing or new dentures can be fitted with a metal housing that snaps onto the implants.
Call Our Office Today
To learn more about mini dental implants, or to find out if you are a candidate for these convenient tooth replacements, contact Complete Dental Care in Kent, WA.