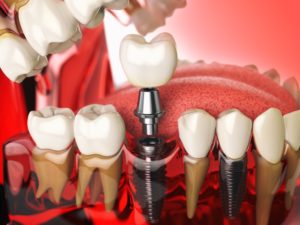 Bridges and dentures aren't your only options to replace your missing teeth. 500,000 people every year are choosing dental implants. As the only method to replace the roots and the crowns, they are the next best thing to your real teeth. You'll need oral surgery to insert posts into your jawbone, but you don't have to worry about a painful procedure. Here's what you can expect while on your journey to a complete smile.
Dental Implant Placement Surgery
A dental implant consists of a post, an abutment, and a restoration. Together, they mimic your natural tooth structure. A titanium post will be surgically inserted into your jaw to replicate the root. You won't feel anything during the procedure because your dentist will use a sedative and local numbing agent. Not to mention, your jawbone doesn't have any nerve endings. Although you won't feel any pain, your mouth will be a little sore for a few days after your surgery.
Recovering from Dental Implant Surgery
It can take a few hours for the effects of any sedatives or anesthetics to dissipate, so avoid eating or drinking anything hot to prevent accidental burns. You can expect tenderness and pain as your mouth heals, but you can manage it with an OTC pain reliever. Applying a cold compress can numb the area temporarily while reducing any swelling or bruising.
Your implant dentist will instruct you to follow a liquid diet for about 1 week before switching to softer foods. Don't eat anything hard or chewy to prevent injuring the healing tissue. Your dentist will let you know when you can resume your regular diet during a follow-up appointment.
Be sure to maintain your oral hygiene to prevent any painful infections. Besides brushing and flossing, rinse your mouth with salt water to kill any bacteria left behind. It will also reduce inflammation to promote a comfortable recovery.
If pain occurs after your mouth has healed, it can be a sign of a big problem, like an infection. Don't wait for your next preventive appointment to contact your dentist. They'll find the source of your discomfort to stop your pain and save your smile.
Trying Out Your New Teeth
It can take several weeks for your bone to integrate with the post, which is necessary before receiving your restoration. After your smile is complete, it's time to try out your new teeth. It may take a few days to adjust to them, but you'll soon forget they aren't real.
If you're ready to replace your missing teeth, your dentist will keep your comfort a priority from start-to-finish. Find out if dental implants are right for you today.
About Dr. Donald Hainer
Dr. Hainer achieved his dental degree from the University of Washington Dental School, where he graduated as an honor student and a member of the National Dental Honor Society. He has advanced training and experience to replace your lost teeth. Contact our office today to schedule your consultation for dental implants.