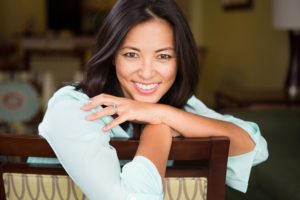 A bright, beautiful smile is priceless because it boasts youth, confidence, and success. Unfortunately, your pearly whites can show signs of aging. Your teeth naturally change color over time. When discoloration is combined with other aesthetic concerns, your smile could give the wrong impression. Although teeth whitening can get your teeth significantly whiter, there's another option. Your cosmetic dentist can treat stains and other imperfections to turn back time with veneers.
Teeth Whitening VS Veneers
Teeth whitening and veneers are two entirely different procedures; however, both can be used to resolve stains and discoloration.
Professional whitening systems can get teeth up to 8 shades whiter, with results lasting from several months to a few years, depending on your aftercare routine. Powerful whitening agents penetrate the enamel to resolve surface stains, like those caused by coffee, poor oral hygiene, or age. Although they are effective, whitening treatments don't work on all stains, like those originating from within the tooth.
If teeth whitening can't restore a bright smile, or you're interested in longer-lasting results, veneers might be an option for you. Not only can you hide stubborn stains, but you can fix several aesthetic concerns using one procedure. Instead of just brightening your teeth, you can completely revamp your smile in 2 appointments.
Get a Picture-Perfect Smile
Veneers don't use any chemicals or whitening agents to treat discoloration. Instead, a thin shell is applied to the front surface of a tooth to improve its color, size, and shape. When bonded to the teeth visible when smiling, they can hide multiple flaws, like stains, chips, and gaps. The minimally invasive procedure provides quick results that are designed to last. Your picture-perfect smile can last for a decade or longer with the right care, like brushing and flossing.
Although veneers require a larger commitment than teeth whitening, they offer a lot of bang for your buck. You can address multiple concerns simultaneously to save time and money. Veneers are a smart investment for patients wanting to improve:
Stains and discoloration
Chips and cracks
Gaps between teeth
Short or stubby teeth
Each veneer is carefully crafted to meet your specifications to fit your teeth like a glove. After just a few days, you won't even notice they are there. Your veneers will look and feel completely natural. You will never have to worry about aged teeth being the focal point of your smile.
Enhance Your Smile Today
Teeth whitening can be the best option if your only concern is staining; however, if you want to breathe new life into your smile, ask your dentist about veneers. They can turn the smile of your dreams into reality using the latest advancements in cosmetic dentistry.
About Dr. Donald Hainer
Dr. Hainer earned his dental degree at the University of Washington Dental School and regularly completes continuing education to provide the most up-to-date services. With over 27 years of experience, he can help you reach your dental goals. Contact our office today to request your consultation for a healthy, beautiful smile.