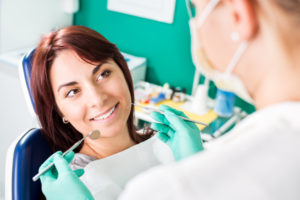 Making decisions isn't easy — especially when it comes to something as big as who will care for your and your family's teeth. But let us remind you that nothing promotes excellent oral health better than having a regular dentist you visit again and again. If you've searched but still haven't found the dentist in Kent that's right for you, the team at Complete Dental Care has some tips for choosing an excellent dentist in 2016.
Four Things a Good Dentist Does
As we said before, it's never easy to settle on the one dentist for you and your whole family — but it's a lot easier when you know you're making an informed decision. We think these four things are most important when choosing a dentist for you and your family — do you agree? Would you add anything else to the list? Let us know in the comments below!
#1: Offers a variety of services
You don't want to run all over town to care for your family's smiles. Make sure the dentist you choose offers a variety of services for the whole crew, like excellent general and preventive services, for starters. Additionally, offerings like dental implants, cosmetic dentistry and emergency care may come in handy in the future — choose a dentist who can handle a number of dental needs.
#2: Offers convenience, too
Of course, the best dentist is the one you and your family will visit regularly. Make sure the dentist you're choosing is open at times that are convenient for you, and that the practice's location won't have you bending over backwards to reach.
#3: Listens when you speak, and truly hears what you say
Communication is key to successful dental care. If your dentist is always too busy to talk, or if he or she seems rushed when you do get the chance to chat, we advise you to keep looking. Your oral health and happiness should always be your dentist's first priority.
#4: Is interested in continuing education
Excellent dentists are involved in a variety of associations — so make sure yours is, too. You can call the practice to inquire about what organizations the dentists are part of, or what continuing education they've received. Dentists who are interested in keeping up with the latest advancements in dentistry are able to provide you with the best care.
Call Complete Dental Care Today
We know your search for the best dentist in Kent will lead you to Complete Dental Care. Contact us to schedule your appointment today, and experience the difference having a good dentist can make in your life! We're here to help all our Kent neighbors achieve their best smiles.