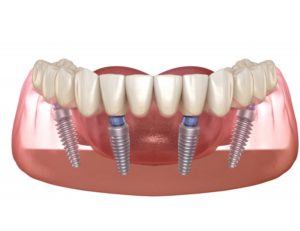 If you want to give your traditional dentures an upgrade so that they won't slip out of place anymore, you'll definitely want to consider dental implants as a solution. These titanium posts keep your new teeth stable and your jawbone healthy. But when it comes to dentures, there are a few different ways dental implants can work. In particular, there's a system called All-on-4 that's often recommended over traditional implant-retained dentures. Take the time to learn more about All-on-4 and why it might be the perfect option for restoring your smile.
What Makes All-on-4 Different?
Normally, to give dentures the support they need, you'll receive up to 6 implant posts surgically placed in specific locations in your jawbone. False teeth that are anchored to these posts will have greater chewing power, and there's no danger of them slipping. Some implant-retained dentures can be taken out of the mouth to be cleaned, but others are permanently fixed in place and can be brushed normally.
With All-on-4, you'll only need 4 dental implants for your false teeth. The two implants near the back of your mouth will be placed at a specific angle so that they can join with the denser parts of the bone. As a result, they'll often have the strength and stability to support temporary dentures right away.
What are the Benefits of All-on-4?
Traditional implant-retained dentures offer plenty of advantages; they keep the jawbone healthy, they'll let you eat all of your favorite foods, and they last for years. However, when All-on-4 is viable, it brings all of these benefits and also:
Lets you enjoy new teeth sooner. You would normally have to wait several months for implants to join with your jaw before they could support dentures, but All-on-4 can allow for temporary restorations to be placed.
Minimizes the number of implants needed. Fewer implants means a less complex surgery and shorter recovery times.
Helps you avoid a bone graft. Sometimes you'll need an additional procedure to regain lost bone tissue in your jaw before a traditional dental implant procedure. Because of the unique placement of the implants, All-on-4 can help you avoid the need for such preparations.
Is All-on-4 Right for You?
Generally speaking, if All-on-4 is an option for you, its obvious advantages and the natural-looking smile it can create can make it a solid choice. That said, if you would prefer implant-retained dentures that can be removed for cleaning, you may want to consider alternate methods.
If you're having trouble deciding what kind of dentures are right for you, talk to your dentist; they'll be able to clearly spell out the pros and cons of each kind of treatment and can guide you towards an optimal decision.
About Kent Dental Clinic
Here at Kent Dental Clinic, our team is dedicated to making sure each member of your family is able to enjoy an exceptional, healthy smile. We stay up to date with the latest advancements in dentistry so that we can offer life-changing procedures such as All-on-4. Right now, we're running a special offer for a free CT scan with any dental implant procedure. If you have missing teeth that you'd like to replace with implant-retained dentures, schedule an appointment at our office in Kent (Complete Dental Care) by visiting our website or calling (253) 854-2714.